Welcome to
COLLEEN DRURY'S FINE ART GALLERY

Come in and browse through the herds of horses and roam through the friendly wildlife.
You'll find here six portfolios.
In the
" COLORFUL CRITTERS
" Portfolio, you'll find the expressive and colorful oil paintings of domestic and wild horses and wildlife.
The
"WATERCOLOR"
portfolio is filled with paintings of your favorite friendly wildlife with an occasion cowboy riding through. For "GRAND TETON NATIONAL PARK" visitors I've added a few Watercolor Landscape Paintings.
In the third portfolio
"WET PAINT",
you'll find Colleen's most recent work both Watercolor and Oil.
The fourth portfolio is where you'll find
" AVAILABLE PRINTS".

"ARCHIVED"contains original artwork that has sold and is in private collections.

The newest addition is CRAZY LOVE for women who have that special relationship with animals.
You may enter the different portfolio's through the "GALLERY" or scroll down and click on the title, then enlarge by clicking on the image.
For information and purchase of original paintings and reproductions (notecard/prints) please visit my Daily Paintworks Gallery-http://www.dailypaintworks.com/artists/colleen-drury-7002/artworkEnjoy your visit. I appreciate your comments if you
care to take the time to do so.
Inquiry of originals can also be made by contacting Colleen by email @ druryart@hotmail.com or phone 307-857-9970 or contacting the individual gallery directly.


Colleen Drury's gallery contains 146 photos.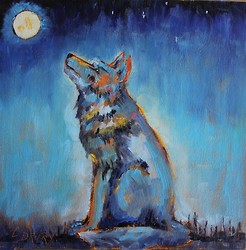 News
2018 Art Festival/ Show Schedule
10th March 2018
2018 Show Schedule
Read More
Gallery
Original Paintings Now Available
Here's what's currently available in
Watercolor and Oil Paintings
(click on the image to see the full assortment)
Follow the Link for Purchase Information
AVAILABLE PRINTS
Available reproductions and notecards in various sizes
from both Watercolor and Oil Paintings.
Archived
Fun to view this portfolio even though
these paintings have already sold.
(click on the image to see the full assortment)